As happens from time to time, my friends alerted me to a boardgame sale on Amazon.
The Games:
Perusing the list of games, i saw two that caught my eye. One was Dead of Winter and the other the Teen Titans Go! Deck builder game.
I've always wanted Dead of Winter, so i made sure to pick it up.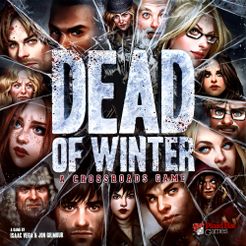 I haven't even broke the seal on the box yet. But when I'll do I'll post about i here or something.
But the other game i did take the opportunity to play over the weekend.
That is the Teen Titans Go! Deckbuilder game from Cryptozioa (or something).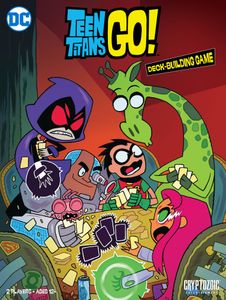 My daughter Penny (who I call little gamer on twitter) LOVES Teen Titans Go!. We've watched every episode about a dozen times each, and there are times it's the only thing played on our tv for weeks at a time. I love it to and the Episode with weird Al might be one of the most enjoyable half hours on TV. I personally am not a huge deck builder game fan. I've played the old stand by, Magic the Gathering, a ton as a kid, and even some as an adult with some of my gamer friends. As I'm sure is a shock to you, I'm not very good at it, and my good friend Jake once broke me from wanting to ever really want to play it again with some bullshit backwards in time "the stack" shit. If you've ever had a moment in your life where all joy from something is destroyed, then you know how I felt at that moment. I was almost that dood who flips tables when he loses at games… but I didnt, because I'm not that dood. I did have a few moment of fun in my last go round of playing it.. Black vise + The Rack for one, and a neat combo of earthquake plus earthbind.
 +  
 + 
The second one got me one of my favorite Nick quotes ever. "You know Dan, you should try a multi-color deck next time. It requires more strategy". Dood… My strategy involves playing cards that show up in my hand. I'm one step above picking cards for their art.
Either way I do NOT enjoy the deck building process, and don't enjoy losing to people who are much better then I. Although as Jake says, it might just be because I have "shitty cards." Ok, to pause that for a second.. I have played a few card/deck/drafting type games. I'm not sure if they are really the same as MTG and TTG? 7 Wonders which is alot of fun (and T's favorite game) but a little too mathy for me?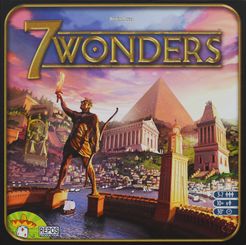 I always get sucked into taking the boob cards.. what can i say, I have a type:
7 Wonders is great. It's a drafting game where you choose cards based on their abilities (and boobs) or stats, and how they play with other cards and making sets, all while trying to have the greatest civilization, based on the number of victory points you've gathered of course. It's quick and has a set time limit so you can get through it pretty easily. If you are playing with people who havnt played before they kind of have to have a shitty game or two to get the gist. I recommend they choose cards for the art (boobs) while they are figuring it out. Tianna really likes 7 Wonders and 7 wonders Duel (which is EVEN BETTER!) Maybe I can convince her to do a write up.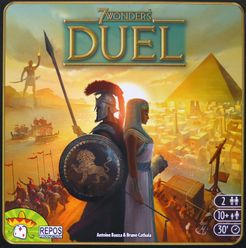 But 7 Wonders is more of a Drafting game then a deck building game… so forget that whole write up.
The other deck building game I've played recently is Sentinels of the Multiverse.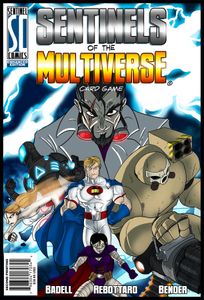 (The cover is even comicbooky!)
This is fun and kind of plays like a B side Marvel/DC universe, although Steve and Jake will probably kick me for not recognizing the universe (multiverse?) it's in. Feels like they started making the game and lost the rights to the IP they were using so they made something up. It's a ton of fun but is more co-op then competitive. You play with other players to take down a big bad guy. Your cards are more for chaining abilities together or playing off your co-players abilities to do maximum damage. I played Ra in the one time we played and my Staff was super duper awesome and let me do tons of fire damage… I like playing DPS classes.
But again this isnt really a deck building game. You have the deck from the start and i guess it's more about fishing for the cards you awnt to chain stuff together? So forget that too!
So back to the Teen Titans Game.
I wasnt super thrilled about playing a deck builder game, but Penny saw the box on the table when it came in from Amazon and really wanted to check it out. I was a bit concerned since the game box has 12+ as the recommended Age, and Penny is only 7 (almost 8 she yells at me as I type this), but I said hey, lets give it a shot. We almost quit a few time before we really got started as an 8 year old has the attention span of a gnat and wouldnt pay attention to me reading the rules. So I just soldiered on and figured it out and kind of showed her through playing. I guess Crytotacistic makes alot of these Deck Builder games because it talks about being compatible with others, and a quick google search shows a bunch:
The game was alot of fun. The art on the cards is enjoyable and invokes the whimsy of the TV Show. The rules were not too complicated and after a few rounds of fumbling through the rules we figured it out and got into the swing of things. Penny really picked it up and while I went easy on her at first she got the strategy a bit faster then I. She did almost start crying (which might have been fake) when I hit her with the first weakness cards in the game but she was fine.
I really enjoyed how they incorporate the villans and nemesis and they are used to make your deck more powerful. Once your deck gets alot deeper the game moves alot faster and your taking down Nemsisis cards much faster and speeding up.
In the End Penny beat me by about 6 points. I'm not sure If this is due to her being really good or me just sucking. Probably me just sucking. She loves playing games and that makes me super excited to play it again too! We're planning to play again soon and I'll let you all know if my impressions of the game change with that!
I'm super excited that Penny was able to pickup a game with such complex rules pretty easily. I'm hoping to get her into some Catan or Pandemic soon! Maybe even The Captain is dead!
The Beers:
So Beer rating. Playing with a kid and a kid oriented game.. I think it's probably best to stick with water.
Or Maybe a Soda? How about a Root Beer. I really like Hanks Root Beer. It's a Philly area staple and being that I feel like a transplanted Philly REGION guy, we'll go with that. It's like a beer? It has beer in it's name?