Hi Everyone! A quick break from the posts about D&D.
Wanted to talk about a game we played last night at our board game group that I wanted to talk about a little bit.
So we played a game that I've owned for awhile and have played a few times, but never as successfully as we did last night.
Deception: Murder in Hong Kong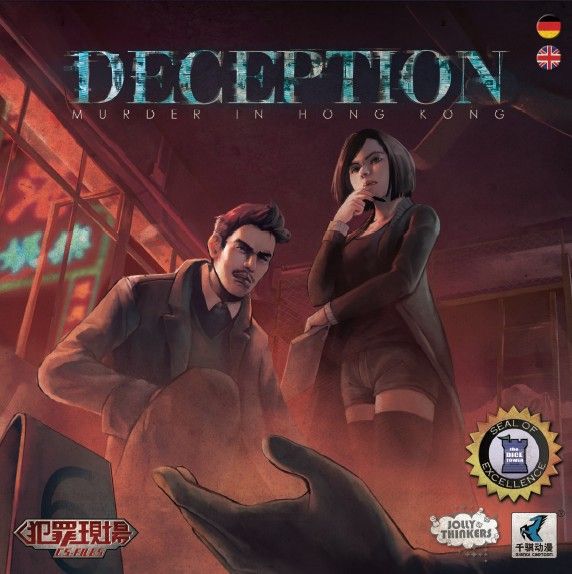 Deception Hong King is a reimplementation of an older game called CS-Files that was kickstarted back in 2015. I don't think I got it as part of the kickstarter but i game across is a bit later seeing a friend post about it on Facebook.
At my bi-annual private cons we have here in Frostburg with my friends, we always have a strong group of 6 – 8 people we play games with for about 3 days straight. One problem with that is that there is not a whole lot of games you can play with 8 people and not get tired of them. There is only so much of Secret Hitler and Codenames you can play. So I'm always on the look out for good party games I can pick up that play well with 8 people.
I always like to look at the Board Game Geek top rankings for various games, and I tend to try and acquire games in my favorite categories that are listed there. So when i saw that Deception: HK was on the top 10 list on Board Game Geek I immediately wanted to pick it up. So I did!
The game itself is a bit like Mysterium in that there is a mystery component. You are an investigator and you are trying to unravel a murder. The Forensic Scientist runs the game (like a GM) and helps to coordinate all the pieces. The Forensic Scientist is similar to the ghost in Mysterium as they are trying to give you clues without talking to pinpoint the murderer and their murder weapon and the key piece of evidence. These two items the murder will show you in a Werewolf style "Everyone Close your Eyes" segment to start the game.
The first time I played this game at a Dan Con I didn't understand the rules very well and it went VERY poorly. Everyone was confused and messed up and no one had a good time. I feel bad because I think i turned everyone off of the game as I haven't gotten that group to play it again.
We played it a few more times with some other friends, but two of those people dont talk to us anymore, so maybe that went even worse? I'm not sure.
So to try and correct this problem I went for the best avenue to learn how to play a board game.
Youtube.
I found two great youtube videos that helped me learn how the play the game correctly! I'll share those below so you too can learn the game! It's really fun and quick and once you get the hang of it, it's a great time accusing your spouse of being the murderer. It has the fun of accusational pieces of deception games, with none of the 2019 awfulness of accusing someone of being a Fascist or Secret Hitler.
Sidenote: I really do miss playing Secret Hitler. It was a always a blast to play and we have many great experiences playing it. Unfortunately in today's world its too real and has lost some of its fun. Also, cant play with kids because having an 8 year old scream "YOU ARE SECRET HITLER! I ASSASSINATE YOU!" isn't as fun as it sounds.
I finally got a chance to break it out again this week (Labor Day game fest 2019!) play it with a bunch of friends.
We played a few rounds of the game, and after a shaky start in the first game with myself as the Forensic Scientist (we lost, the murderer won, once again… I suck at Gaming) we had a better try the second round! In that one my lovely wife was the murderer and killed the victim with eggs laced with illegal drugs! Is that poisoning? I guess?
Either way the game plays really quick and is actually pretty light weight in terms of ruling. We got through 2 playthroughs in roughly an hour and a half. Game box says 1 game is about 15-30 minutes long, and we certainly could have gotten into that time range if we had cut out the cross talk and held people to 30 secondish long presentations between rounds.
Overall it's a very fun game thats great for parties / party sized gaming groups that I will certainly keep in my bag for future game nights.
I probably wont get a chance to do another game night for a few weeks due to my sons soccer scheudle, but SOON!
Anyways, here are the two How To Play videos which helped me the most. Enjoy!